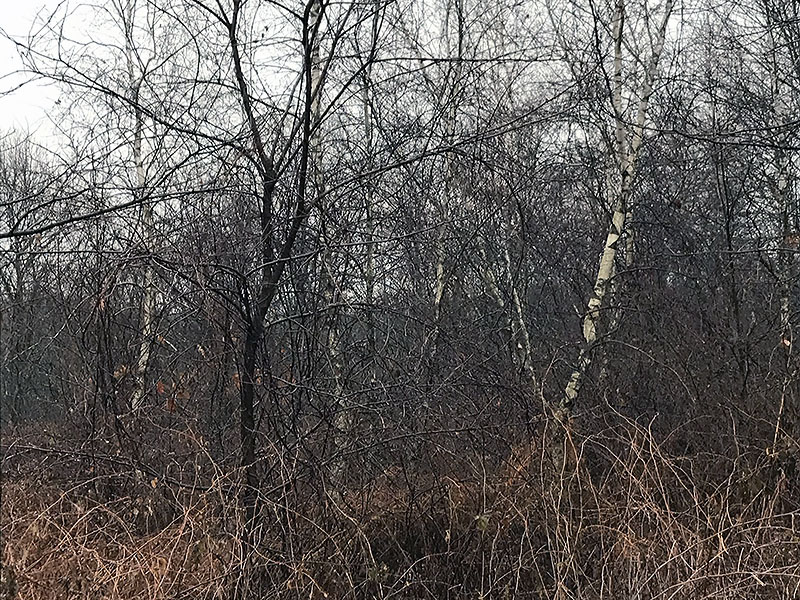 27 Nov

Rainy Day

This morning, upon the ridge, it was like being in an icy cloud. The day before I had been outside in a t-shirt and hat, splitting wood, and sweating. This morning, upon the ridge, it was cold and raining steadily.

I was out with the dog, Hobbes, without too much of an agenda. It is hunting season, so we are staying outside of the woods proper, and off of the Appalachian Trail. The call of a wild turkey made us turn up the access road to the microwave tower. You hear them calling now and again, but rarely see them in the woods. Hobbes is getting on in years and poses no threat to the birds. The trees are dark, their bark shiny, the lichen green like sage. I want to decorate spoons and bowls that color, the various greens of wet lichen.
I come across this Dali-esque scene of a shattered dead tree draped across the rock. Following the grain of the wood, in a slight spiral, it has delaminated, and its weight has bent it over the rock face.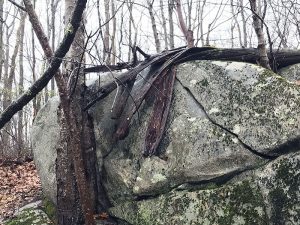 Here is a naturally occurring "barley twist." A vine, choking a tree further up, being choked by a smaller vine.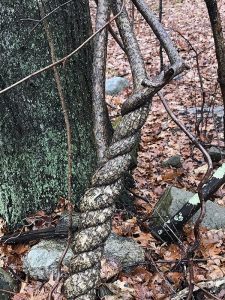 Is this a branch or a vine, looking as if it is coming right through the tree, being in turn crushed and choked by the tree growing back around it?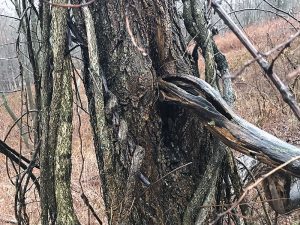 On this side of the road, there are a lot of white birch trees. On the other, it is all black birch, growing like weeds in the swampy bottomland and on up over the next ridge. It is my understanding that this side of the road was more recently farmland. Could this be the natural progression here of forest regrowth?